Individual/Home/Family Uses:
You can always stop the bacterial infection and the pain with Danoras Oral Gel in an inflamed gum. When used after a dental procedure or cleaning, recovery is smooth and perfect.
NOTE BEFORE: A lot of bacteria pass through the mouth every day, re-infection is very common and should be expected due to the functions of the mouth, especially the tooth.
Always have Danoras Oral Gel handy to stop any re-infection as soon as they happen; always do your regular dental checkup; and you will have a healthier tooth for a long time.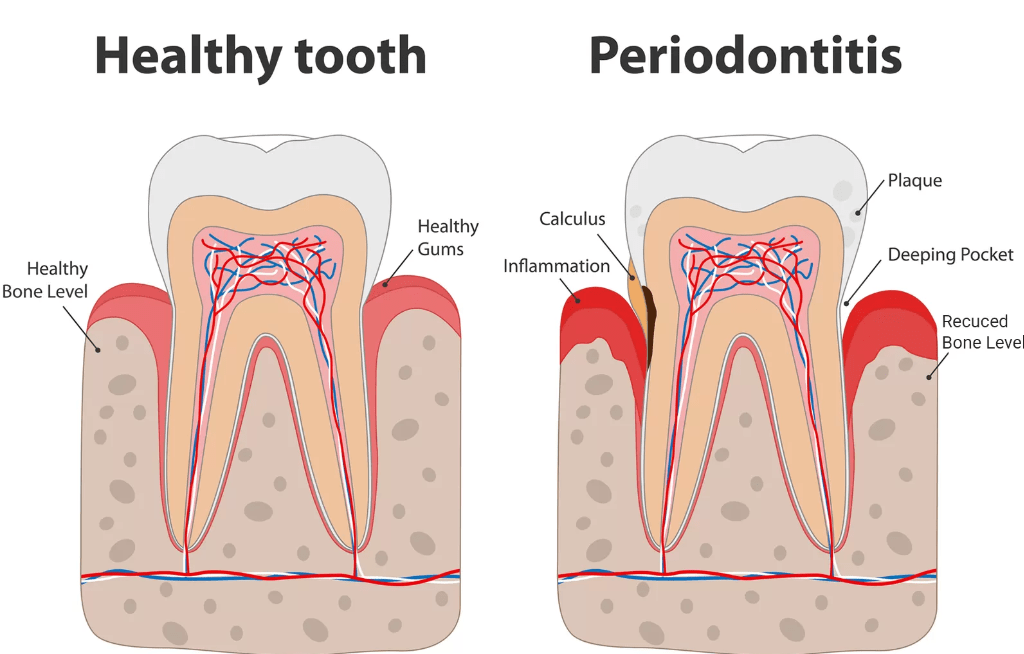 Stages of Tooth Decay
Danoras Oral Gel can help stop infections in Sages 1- 3 when oral gel can still have contact with the infecting bacteria. Once bacteria infection occurs in the pulp and abscess is formed, it becomes more difficult for antiseptics to have contact with the bacteria. At every stage see your dentist, and use Danoras Oral Gel to support dental treatments to get the best results. The outcome will always be better with Danoras Oral Gel. Note that re-infection is common and may happen. Always have Danoras Oral Gel to stop any re-infection.
Dentist Uses:
Elevate Your Dental Practice with Danoras Oral Gel- The Complete Solution for Post-Procedure Protection:
As a dental professional, you understand the importance of providing your patients with exceptional care and ensuring a smooth recovery after dental procedures. Introducing Danoras Oral Gel, the revolutionary antiseptic specifically designed for dental use. With its broad-spectrum antibacterial, antifungal, antiviral, analgesic, and non-irritant properties, Danoras Oral Gel promotes optimal healing, painless, and quick recovery, setting a new standard in post-procedure dental care.
Application of Danoras Oral Gel to disinfect areas of dental procedure before and after dental procedure will hasten recovery, healing, reduce swelling, and make recovery painless after the anesthetic wears off. Giving Patients 2 mini sachets(0.5 GRAM) of Danoras Oral Gel take-home, guarantees painless recovery and prevents any form of complication.
Discover why Danoras Oral Gel is the go-to choice for dental professionals:
Comprehensive Protection: Danoras Oral Gel's advanced formulation targets a wide range of bacteria, fungi, and viruses, ensuring thorough antiseptic coverage and reducing the risk of post-procedure infections.
Non-Irritant Formula: Our gentle and soothing formula is specially designed to minimize discomfort and irritation after dental procedures. Danoras Oral Gel's non-irritant properties make it suitable for patients with even the most sensitive gums.
Analgesic: As anesthetic wears off, Danoras Oral Gel continues to sedate the procedure sites while preventing infection; so the patient does not experience pain while healing is taking place. Danoras Oral Gel facilitates smooth recovery devoid of pains, swelling, and complications.
Fast and Effective Healing: Danoras Oral Gel accelerates the healing process, promoting quick recovery and reducing the likelihood of complications. Give your patients the confidence of a smooth and comfortable post-procedure experience.
Danoras Rubbing Antiseptic Gel is analgesic thereby preventing pain while hastening healing.
Experience the outstanding benefits of Danoras Oral Gel:
Broad-spectrum effectiveness against harmful bacteria, fungi, and viruses, ensuring a clean and sterile oral environment.
Non-irritating and gentle on gums, providing immediate relief and comfort.
A fast-acting formula that promotes quick healing and minimizes downtime for patients.